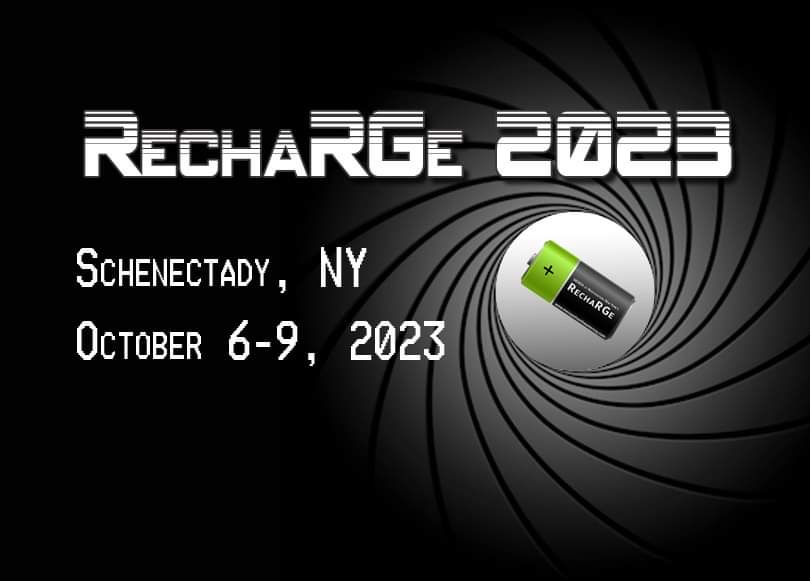 RechaRGe 2023
RechaRGe is back in Schenectady, NY for another amazing event! Join us for a spy-themed weekend of entertainment. This year's activities include speakers, a murder mystery dinner party, escape room, trivia pub crawl, and the board game room you know and love!
When: October 6th through October 9th, 2023 (Columbus Day Weekend)
Where: Hilton Doubletree in Schenectady, NY*
What: Four days of fantastic fun!!
Click the battery to register and book your room.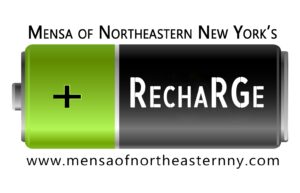 ---
RechaRGe COVID Protocol
Mensa of Northeastern New York (MoNNY) will abide by all local COVID mandates, including any potential mask mandates.
Please use common sense and be considerate of fellow attendees. Do not attend if you are not feeling well, have currently tested positive or have recently tested positive and are still under quarantine for COVID.
If you are feeling ill while attending, please take appropriate steps to isolate yourself for the safety of all attending.
As of 3/1/23, masks are not required, however please feel free to mask if it makes you more comfortable.
RechaRGe Code of Conduct
RechaRGe attendees must respect common sense rules for public behavior, personal interaction, common courtesy, and respect for private property. Harassing, offensive, or generally unacceptable behavior will not be tolerated. All illegal actions will be immediately reported to the appropriate authorities. Mensa of Northeastern New York (MoNNY) reserves the right to take any action deemed necessary and appropriate, including but not limited to immediate removal from the event without warning or refund, in response to any incident of unacceptable behavior.
Examples of unacceptable behavior include, but are not limited, to the following:
Unwelcome physical contact, verbal aggression, and other forms of harassment toward other attendees, presenters, vendors, or event staff
Disruption of presentations, gameplay, or any other events organized by MoNNY in the general event space at the event venue.
Violation of event space policies.
Intoxication, to the point of interfering with other members or becoming a hazard to yourself
Tampering with food or drinks consumed by others
Damage or destruction of MoNNY-contracted venue space
If someone is causing you discomfort, please tell them and/or contact an RG Committee Member.  If you need immediate and direct intervention for your personal safety, request assistance from security at the front desk or call 911.
We reserve the right to remove anyone from MoNNY events for inappropriate behavior with no refund of registration or other fees. Depending on the severity of the incident, MoNNY may take further action following the event.