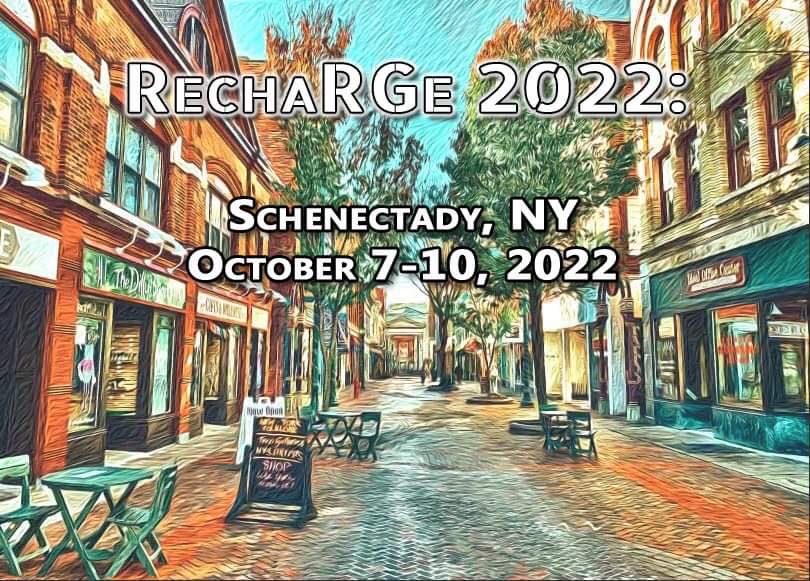 RechaRGe 2022
RechaRGe is back!! Join us for our first in-person RG since 2019! This year's theme is Electric City.  RechaRGe is in Schenectady, NY this year, known as  "The City that Lights and Hauls theWorld", a reference to the Edison Electric Company (GE) and theAmerican Locomotive Company (ALCO).  Come to enjoy various speakers on the history of the area, get dolled up for our 1920s Murder Mystery Prom, or see a bit of the area with our local pub crawl.
Back by popular demand, we've also got an escape room, the annual Couch Potato Cup, a games room, and more!
When: October 7th through October 10th, 2022 (Columbus Day Weekend)
Where: Hilton Doubletree in Schenectady, NY*
What: Four days of fantastic fun!!
Click the battery to register.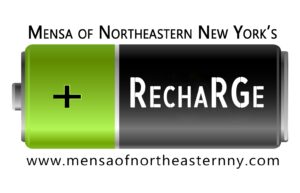 *Our hotel block is currently sold out. You can check back for cancellations. The following hotels are also available nearby:
Schenectady Inn & Suites (across the street)
Rivers Casino & Resort (within easy driving distance)
---
RechaRGe COVID Protocol
Mensa of Northeastern New York (MoNNY) will abide by all local COVID mandates, including any potential mask mandates that are in effect as of October 7.
all registered attendees ages 12 and older will be required to show either proof of vaccination OR a negativeCOVID-19 test result and photo identification.
Attendees 18 and older must bring a photo ID that matches the name on the test result. Guests younger than18 without ID must be accompanied by an adult with proper identification.
Attendees who are fully vaccinated against COVID-19 (at least 14 days after the final dose of Pfizer,Moderna, or Johnson & Johnson) must bring proof of vaccination to registration in order to pick up their name badge. Our definition of fully vaccinated follows that of the CDC; as of Jan. 31, 2022, a booster is not required to be fully vaccinated, but this is subject to change.
If proof of vaccination cannot be provided, attendees must bring a printed copy of the negative COVID-19 test results which matches the patron's photo I.D. Test results must meet the following criteria: 
Both PCR tests and antigen tests are acceptable. The test must be supervised by a third-party medical care provider, either in-person or via a real-time telehealth service. At-home tests that do not include real-time telehealth supervision will not be accepted.

A PCR test must be taken within 72 hours prior to your first day attending the event. For example, if you are to arrive on Friday, the date of your test should be between Tuesday and Friday.
Attendees who choose to take a rapid antigen test must obtain results within 24 hours of arrival. The test must be supervised by a third-party medical care provider, either in-person or via a real-timetelehealth service. At-home tests that do not include real-time telehealth supervision will not be accepted.
RechaRGe Code of Conduct
RechaRGe attendees must respect common sense rules for public behavior, personal interaction, common courtesy, and respect for private property. Harassing, offensive, or generally unacceptable behavior will not be tolerated. All illegal actions will be immediately reported to the appropriate authorities. Mensa of Northeastern New York (MoNNY) reserves the right to take any action deemed necessary and appropriate, including but not limited to immediate removal from the event without warning or refund, in response to any incident of unacceptable behavior.
Examples of unacceptable behavior include, but are not limited, to the following:
Unwelcome physical contact, verbal aggression, and other forms of harassment toward other attendees, presenters, vendors, or event staff
Disruption of presentations, gameplay, or any other events organized by MoNNY in the general event space at the event venue.
Violation of event space policies.
Intoxication, to the point of interfering with other members or becoming a hazard to yourself
Tampering with food or drinks consumed by others
Damage or destruction of MoNNY-contracted venue space
If someone is causing you discomfort, please tell them and/or contact an RG Committee Member.  If you need immediate and direct intervention for your personal safety, request assistance from security at the front desk or call 911.
We reserve the right to remove anyone from MoNNY events for inappropriate behavior with no refund of registration or other fees. Depending on the severity of the incident, MoNNY may take further action following the event.